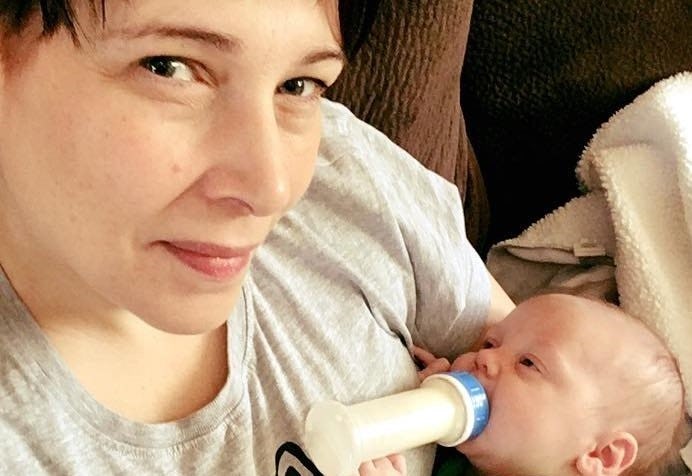 Nor was I fazed by the thought of losing sleep, changing diapers or getting peed on once baby came home. I figured it was all part of modern fatherhood. But my wife using a breast pump? Don't ask me why, but as Helene and I moved toward parenthood late last year, the idea of her pumping - or expressing - her milk into a plastic, humming, pulsating, vacuum-like contraption sealed viselike to her breast gave me the creeps.
I politely asked to be excused from witnessing, hearing or even comprehending this chore. So it was with a certain amount of irony that not only was I not excused, but I ended being the one who taught my wife how to use a breast pump. And I became something of an expert in the operation of the dreaded sucking apparatus, Medela's Pump in Style model.
It is not pretty. My breast-pumping phobia revealed itself several months before Dean - the baby, the screaming, kicking, gassy, demanding, manipulative bundle of joy - arrived. I was speaking to a friend, a father of two boys, about breast-feeding, and he said: But then he described pumping, and I realized it wasn't the feeding that bothered me - obviously the kid and I could share - but the expressing To make matters worse, my wife would be borrowing a friend's pump - it's an expensive device - so hers wouldn't be the machine's first breasts.
Helene respected my phobia and agreed to leave me out of it. Still, she was determined to pump - so she could have a break and I could feed the baby, or so she could work and the part-time nanny could do the honors. Cut to several months later: Dean moved in, we were exhausted from lack of sleep and Helene decided it was time to get started. Her friend Lisa, a mother of two, was lending her the pump, and she planned to come by one day when I was not around to drop it off and give Helene a lesson.
But it was impossible to arrange a time when she could come over without her kids, and Helene, in the weeks after giving birth, was in no shape for an apartment filled with two small children in addition to her own. So she decided she would go to Lisa's house and get the pump and lesson while I watched Dean. Then Lisa, in the chill days of mid-November, came down with pneumonia, and Helene couldn't risk seeing her.
It was a bad case, likely to last a while, and Dean turned out to be a devoted and insistent every-two-hour eater. She asked me to get the pump. Still sensitive to my discomfort, she assured me that Lisa's husband would greet me at the door and hand me the machine concealed in a bag.
All I had to do was take it home and hand it over, and then Lisa would give the lesson over the phone. I arrived at Lisa's porch-fronted brick house in Windsor Terrace on a frigid night and rang the bell. Her husband, just home from work, with a kid screaming in the background, opened the door and genially invited me in. He then calmly said the words I feared most: I hesitated, I fumbled for an excuse, and then, unable to come up with anything convincing, I took a deep breath and walked in.
Lisa was splayed out, half-covered by a quilt in the dim bedside light, but the pump was safely contained inside a vinyl carrying case and a brown paper shopping bag. Obviously, she was just going to hand it to me and Piece by horrible piece, the offending machine was removed first from the bag and then from its case and laid out on the quilt.
And then the lesson began, starting with the electric cord, which was to be plugged into the wall like a coffee maker or a Cuisinart. Next came the bottles, with yellow tops, and the long pieces of clear plastic tubing with yellow-plastic valves on the end. One snapped snugly into something that looked like a small, clear-plastic coffee filter with two openings on the bottom. One opening, I was told, was for the vacuum tube, the other for the milk bottle.
Just attach the tube to the proper opening with the proper valve, and then stick the other side into the opening in the shoe box-size machine and then Ugh, I can't go on.
It was an endless lesson, and the finale was the topper: Lisa took the clear-plastic coffee filter thing and, just to make sure I got it, stuck it to her breast. Okay, okay, I didn't faint, and she had on a sweatshirt so it wasn't that bad, but I wanted to faint, because if I had, the lesson would have ceased while Lisa and her husband revived me.
Mercifully, class soon ended, and I bounded down the stairs, past the kids and their genial father, and fled into the night. The next morning, with memories of my breast-pump phobia obviously vanished from her mind, Helene asked me to show her how to work the thing.
Once again, the pieces were taken out and arrayed on our bed. I walked her through it - the bottle, the tubing, the delicate snapping of the tubing into the machine itself, the sucking "vroom-vroom-vroom" once it was plugged in. I couldn't figure out what I was supposed to do with the little yellow valve thingy, but it didn't seem to matter, since everything hooked up pretty well. My job done, I headed to work. Now, I'm an editor at the paper you are reading, and 5 p.
Reporters are calling, stories are being written, news is breaking, deadlines loom large. Not the time of day you want to get the following call from your nearly tearful wife: This thing isn't working Am I doing it right? Is the bottle attached to the right opening? Is there any vacuum pressure? My colleagues were giving me some strange looks.
And Lisa explained the problem. And the pumping began. And the more Helene pumped, the more she had to pump, and the more Dean wanted to drink, no matter who was feeding him or what time it was.
The "vroom-vroom-vroom" went on day and night. Lisa's half-dozen bottles soon filled up, and more were purchased, and they filled up, and they lined the door shelves of the refrigerator, and then they filled the whole refrigerator, and then they filled the freezer Okay, I'm making this up. What happened was this: Helene pumped a few times, filled a few bottles, and I fed Dean, and he looked up at me, curious but content.
But soon the "Pump In Style" was sitting in a corner, in its carrying case, forlorn and unused. I asked Helene about it, and she said that pumping had turned out to be not much of a break, that it hurt, and that, yes, the more she pumped the more milk she produced, the more engorged she became, until it was too much and she had to pump some more. She might as well just get up and feed the kid herself. Oh, there was one other thing.
Wendell Jamieson is night city editor at the Daily News.