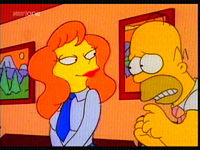 I'm not sure what I thought of it back then, but I love it now. Each time I watch it, it seems to get better and better. The only thing that dissapointed me in the episode was the subplot. First of all, 'The Last Temptation of Homer' is hilarious. Some of the jokes in the episode seemed quite wacky, like Homer's vision of an alternate life, with 'Colnel Klink'. Yet they worked fine, and it wasn't like the plot itself was paticularly wacky or too hard to digest. There are a plethora of funny moments.
In the first act, I liked Skinner threatening to 'tell his mother', the fake safety door, and Charlie being whisked off to some country half way across the globe - it was a pretty bizarre scenario, but still managed to be funny. I also found Zutroy, and the power plant duck amusing. Homer's line about 'peeing in the water fountain' was hilarious - made even more so by Lenny and Carl's concerned expressions. Other moments in the first act that I found funny were Milhouse suddenly realising that he is a nerd, and Cupid Carl's line 'Ain't you never seen a naked chick riding a clam before?
The second act had very funny scenes too. Homer finding out what life would have been like if he had married Mindy was funny: I'm so happy, darling. Are you happy, Jeeves? Then we're all happy I don't know why, but I found that hilarious.
Also funny were the scenes with the guy with the huge hand, and Homer's attempt to read the blurred writing. The third act had some pretty funny moments. The cheeky porter at the hotel was great it was amusing when he walked past with the cleaner that sounded like Marge's 'hrmmm' of dissaproval. I've pretty much covered every funny scene, except for at the Chinese restaurant, at the convention and finally 'Oh Margie, you came and you found me a turkey, on my vacation away from workey'.
I mentioned earlier I wasn't that fond of the subplot. It felt a bit dull and unecessary, and not that funny either. I'm glad they didn't stick with Bart having a vocal scraping the whole episode - that would have become annoying quickly. The plot of 'The Last Temptation of Homer' was a good one. The concept had been done before with Marge in 'Life on the Fast Lane', but this episode still managed to be fresh - apart from the theme of a potential affair, the two episodes had littlein common.
The pacing was good, and the characterisation was very solid. Homer was great - he was truly likeable as he tried all he could to avoid a potential affair, but fate threw everything at him. Homer's faithfullness to Marge was endearing, and whilst a bit odd, I did like the ending with him and Marge. Overall, this is a truly great episode.